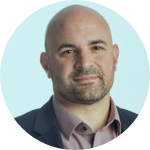 About Michael
Michael has spent the last twenty years in biotechnology building, leading and motivating process development and manufacturing teams to support clinical programs from early development to late-stage clinical trials. Currently, Michael is the Chief Operating Officer at ElevateBio BaseCamp, leading facility, process development and manufacturing operations for a broad portfolio of cell and gene therapy products and technologies.
Prior to ElevateBio, Mike was the Vice President of CMC Operations at Oncorus and Program Lead for the development of a next-generation oncolytic immunotherapy platform. Prior to Oncorus, Michael was the Sr. Director of Technical Operations and Head of Cellular Process Development and Manufacturing Operations at bluebird bio.
Education and Accomplishments
Michael received his Bachelor of Science degree from Providence College and his Masters in Biochemistry and Molecular Biology from the University of New Hampshire.